Don't risk your safety and that of your family in order to save a few Euro! Choose to travel confidently with an N.C.C.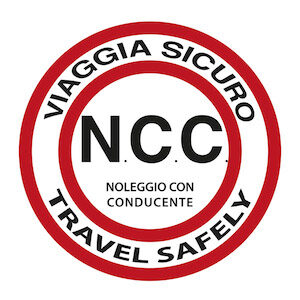 Dear Client,
Any time you hire a chauffeur service (rented vehicle with driver) remember to check that they are an authorized N.C.C. (Noleggio Con Conducente).
An authentic N.C.C. will bear a distinctive plaque on the rear bumper of the vehicle, bearing the number of their license and the name of the municipality that granted it, and will display the initials "N.C.C." in the windshield.
N.C.C.'s furnish passenger transport services for transfers and excursions, weddings and events. Sure, our services cost more than a standard taxi trip but here's why:
1)   Our vehicles are scrupulously maintained and are by law subject to yearly inspection.
2)   Vehicles are typically replaced every 4-5 years.
3)   Insurance coverage is obligatory and by law is very high — between 5 and 50 million Euro per incident in order to cover any bodily injury or damage to personal property.
4)   Each N.C.C. is a legitimate business entity, subject to fiscal compliance. A legitimate N.C.C. will  be registered with the local chamber of commerce and have a VAT registration number.
5)   In order to receive the N.C.C. designation it is necessary to obtain administrative authorization from an Italian municipality . This authorization is granted after the municipality has reviewed and rated applicants in an open competition. Besides being in possession of a valid driver's license, N.C.C. drivers are required to have the following additional qualifications:
"CAP" – Certificate of Professional Qualification, after passing an exam given by the state authority for motor vehicles.
"L'iscrizione al ruolo" – Registration within the region where the driver will be working, after being successfully examined by a committee specific to this task.
Absence of any criminal record.
N.C.C. drivers are also subject to special monitoring for drugs and alcohol. While working, their blood alcohol level must be absolute zero. (A driver with non-professional designation can have up to 0.05%)
6)   Considering all of the above, it's no coincidence that those who want to travel in safety place their trust in the N.C.C. professional! Our clients include:
Businesses and their professional staff
Travel agencies and individual tourist travelers
Foreign delegations and important persons in the world of entertainment
Disabled persons
Transportation of students arranged by public and private schools
Contact us for designing an itinerary together or even just for asking advice. We will do our best to reply within 24 hours.